THE NEXT GENERATION OF A PROUD LEGACY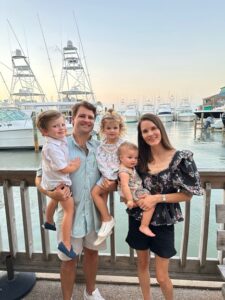 My name is Austin Fatjo and pictured with me are my wife and three children, the most important thing in my life and the fuel behind my passion, determination, and work ethic.  I was born and raised in Houston, and if my name sounds familiar, it is because my dad is Tom J. Fatjo Jr, the pioneer and founder of the modern day solid waste industry.   If you are not familiar with him, I will give you a brief synopsis of his legacy.
Dad attended Rice University (formerly the Rice Institution) where he played golf and football.  While at school, his father and my grandfather, Tom J. Fatjo Sr, ran into hard times financially, which prompted dad to quit both sports teams and work to support himself through school.  Several years after graduating he had developed a successful accounting career.  One night he was at his neighborhood's homeowners association meeting where several of the members were complaining about the local garbage company.  Dad suggested a solution – the HOA should purchase its own garbage truck and provide its own collection service.  A particularly irritated man, mockingly, challenged him to do so personally.  He accepted that challenge and eventually started one of the first national garbage companies, Browning Ferris Industries (BFI).  Over the next four decades he would also start Republic Waste Industries (currently Republic Services, the second largest waste company in North America), TransAmerican Waste Industries, and Waste Corporation of America, all of which were publicly traded.
Dad has been modest and relatively introverted for as long as I can remember.  He never shared too much of his earlier years with me so I had to read his book, With No Fear of Failure, for a more detailed and personal account of his story.  It is a great source of influence and motivation and I strongly suggest everyone read it.  Contact me by email and I will send you a copy.
I did not grow up on the back of a garbage truck or work in the maintenance shop during summer vacations as many Cinderella stories may begin.  Dad made damn sure I did not have to do that and in fact, he never so much as encouraged me to do so.  In retrospect I wish he had, but I think he was overcompensating for his personal experience.  I was incredibly blessed growing up as dad made sure I focused on school.  My dream was to graduate from The University of Texas at Austin, which I accomplished in 2011.  At the same time, he was retiring from his career in the solid waste industry after nearly half a century.
Over the next few years I played integral roles in a couple start-up ventures, which contributed to my experience in business, but never invoked a sense of passion.  Then, in 2015 dad had a severe stroke that left him confined to his bed and without the keen business wit that shaped so much of his life.  Seemingly out of nowhere something began to materialize from within my bones.  I suddenly had an overwhelming desire to follow in his footsteps and pursue a career in the garbage business.  It makes me sick to think how I missed the opportunity to learn the business from the architect who created it.
I joined a small waste brokerage company, which introduced me to the garbage business, but seemed to orbit the industry and did not satisfy my entrepreneurial spirit.  It did however give me a unique perspective on the relationships between customers and collection companies.  As a broker, paradoxically an intermediary on the periphery of the industry, I saw two opposing sentiments.  On one side were companies which seemed to have invested too much on sales rather than operations & customer service and on the other side were customers who were infuriated with misleading service agreements and unaccountable service.
In the Summer of 2017 I re-read my dad's book, With No Fear of Failure, and decided to follow my entrepreneurial genome by starting Waste Transfer Partners, built on a foundation of integrity, transparency, and accountability.
I hope you will help me add to his legacy by allowing our team to serve your waste disposal needs.
After all, it is in my blood.
Austin J. Fatjo